WHO WE ARE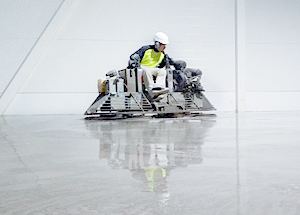 SLEEK FLOORS OFFERS A BRAND NEW, STATE OF THE ART, CONCRETE POLISHING SYSTEM; THAT IS THE MOST EFFECTIVE AND COST-EFFICIENT ONE OF ITS KIND ON THE MARKET
We started exploring new products and innovations to polish concrete floors over 8 years ago. Our search led us to a brand new  
technology that polished concrete at a fraction of the cost; while giving better results, in half the time! Originally invented in Europe, the system has now spread globally and taken over traditional treatments of polishing concrete all over Europe and Asia. Winning the 2015 Industry's Choice Award for Most Innovative Product, SLEEK FLOORS is proud to be the first to bring this technology to the United States and the only operator of this technology in Nevada. We are licensed and insured, with hundreds of thousands of square feet of polished concrete floor projects behind us.
"We are certain to deliver excellent clean and polished concrete floors to Las Vegas"
While your floor is being transformed, we want you to be part of the journey.
Our mission
Our mission is to transform the polished concrete industry; to create an affordable and cost-effective solution for business owners around the world by providing world-class technology and service to our customers.
1

IMPROVE QUALITY

Improve quality of your exciting concrete by eliminating dust.

2

REDUCE COST

Reduce overhead cost by introducing most advanced cleaning polishing system.

3

CONVERT APPEARANCE

Convert old concrete into a clean and polished, which will last for a long time.
Top Reasons to choose polished concrete floors
Sleek Floors inc is opening doors for business owners looking to convert their old concrete floors into a new polished and clean facility. Sleek Floors offers a lower cost alternative to traditional grinding and polishing system. Here are some of the top benefits of our system:

1

Increased Abrasion Resistance

Floors polished with the Sleek Floors system are strong, smooth, and durable. ASTM testing results show increases to the surface hardness of up to 500% in comparison

to untreated, steel-troweled concrete.

2

Eliminate Dusting

Sleek Floors system eliminates microscopic surface roughness, creating a tight, smooth, and 100% dust-free concrete surface.

3

Extremely Fast Polishing Process

Deep cleaning, honing, and polishing that can be done simultaneously during the construction process.

4

Save Time & Money

The high production rates result in fewer man-hours; saving the contractor valuable time during the construction process.

5

Low Maintenance Floors

Hard, smooth, and abrasion resistant floors are much easier to clean than untreated steel-troweled surfaces. Sleek Floors allows for easy removal of tire marks, dirt, and scuff marks.

6

Eco Friendly

The high sheen will increase ambient lighting, reducing the end user's energy bill. Additionally, no harsh chemicals are used during the polishing process.

7

Construction Clean-up

Concrete surfaces are used and abused during the construction process. The Sleek Floors system can be used to remove curing agents, bond breakers, and tire marks from the surface of the concrete without interrupting the construction schedule.