High Gloss Polished Concrete Floors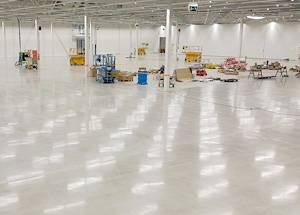 Convert ordinary concrete floors into a HIGH GLOSS clean and polished concrete.
High Gloss concrete eliminates surface roughness creating a clean smooth and 100% dust free surface. Concrete polishing will increase ambient lightning which will reduce your overall energy cost. Polished
concrete floors are hard smooth, and highly abrasion - resistant. High gloss concrete will allow easy removal of tire marks,dirt, and scuff marks. Clean high gloss polished concrete finish is considered a great sustainable energy efficient flooring option. Most buildings have an existing concrete floor that can be clean and polished.
High gloss or medium gloss polished concrete floors are low cost-maintenance, as they are more durable and easier to clean. Polished clean concrete surfaces prevent dust and other allergen problems associated with other flooring finishes. Polished concrete floors highly reflectivity reduces the need for high energy lighting by up to 30% due to the light reflectance from the polished high gloss concrete surface. It has being proven polished concrete flooring is hard wearing and will not chip or dent easily like softer surfaces such as timber, tiles, vinyl or resin floors. Our high gloss clean polished floors are ideal for: Commercial Flooring, Residential flooring, Industrial Flooring.
Clean & Light Polished Concrete enhances the natural grey tones of the concrete. This floor system is often used in areas such as warehouses and shops where owners may have concerns about durability and cost efficiency. Light Polished, durable, and easy to maintain concrete floor surface that is very affordable and will last for many years.
Industrial Polished Concrete produces a medium gloss concrete and is popular for settings where a subtle reflection is desired. Many of our customers choosing this gloss level it gives the same sleek look as the Clean & Light Polished, but with a slight gloss that provides some light reflection. This gloss level is smooth, and durable, easy to maintain. It cost less than conventional floor coatings
High Gloss Polished Concrete the appearance of this flooring often compared with marble and terrazzo look. The floor will actually reflect not only the lighting in the facility, but will also mirror the colors from the objects surrounding it. This floor system is very popular. High Gloss Polished concrete is more durable than any floor coating or overlay system on the market, and less expensive to maintain.

Polished concrete is a lot more durable and cost effective than any other floor systems. Sleek Floors Inc offers mobilized concrete polishing demonstrations to show you what it can do for your facility. 
Request a MOCK-UP in your facility
Main Features
COST EFFECTIVE
DUST FREE INVIROMENT
RESISTANT TO TEAR AND WEAR
RESISTANT TO Stains AND abrasions
INCREASE CONCRETE STREGTH
Longer service life of floors
INCREASE AMBIENT LIGHTING
ELIMINATION OF TIRE MARKS
EASY TO MAINTAIN AND CLEAN
NO MORE STRIPPING AND WAXING
Safe for occupied areas
SCS Certified
LEED BENEFITS
Test Results & Comparison
Environmentally friendly

Natural sleeking method enhances the special features of concrete, smoothing and polishing the surface without harsh chemicals. Harmful chemicals are yesterday's news – cleaning the floor with water is quite enough! Both the agents used in finishing process are also environmentally friendly.