Concrete Floors Cleaning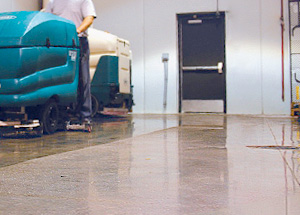 Remove grease, orage peel, oil spills and tire marks. Easy maintenance and stain resistant.
Concrete is a porous surface it can be easily stained. The good news is that most stains can be removed from concrete floors with the proper equipment and procedures. Many concrete surfaces accumulate dirt, and dust over time.
But when a concrete surface is cleaned, it's often shocking how much better it looks. Oil stains should be removed as soon as possible to prevent farther penetration into the concrete floors. Our system uses a combination of high pressure and speed to clean out dirt dust and oil spills from concrete areas. For the really tough stains, we use special degreasers and solutions to add a little extra cleaning power.
Clean & Light Polished Concrete enhances the natural grey tones of the concrete. This floor system is often used in areas such as warehouses and shops where owners may have concerns about durability and cost efficiency. Light Polished, durable, and easy to maintain concrete floor surface that is very affordable and will last for many years.
Industrial Polished Concrete produces a medium gloss concrete and is popular for settings where a subtle reflection is desired. Many of our customers choosing this gloss level it gives the same sleek look as the Clean & Light Polished, but with a slight gloss that provides some light reflection. This gloss level is smooth, and durable, easy to maintain. It cost less than conventional floor coatings
High Gloss Polished Concrete the appearance of this flooring often compared with marble and terrazzo look. The floor will actually reflect not only the lighting in the facility, but will also mirror the colors from the objects surrounding it. This floor system is very popular. High Gloss Polished concrete is more durable than any floor coating or overlay system on the market, and less expensive to maintain.

Polished concrete is a lot more durable and cost effective than any other floor systems. Sleek Floors Inc offers mobilized concrete polishing demonstrations to show you what it can do for your facility. 
Request a MOCK-UP in your facility
Main Features
COST EFFECTIVE
DUST FREE INVIROMENT
RESISTANT TO TEAR AND WEAR
RESISTANT TO Stains AND abrasions
INCREASE CONCRETE STREGTH
Longer service life of floors
INCREASE AMBIENT LIGHTING
ELIMINATION OF TIRE MARKS
EASY TO MAINTAIN AND CLEAN
NO MORE STRIPPING AND WAXING
Safe for occupied areas
SCS Certified
LEED BENEFITS
Test Results & Comparison
Environmentally friendly

Natural sleeking method enhances the special features of concrete, smoothing and polishing the surface without harsh chemicals. Harmful chemicals are yesterday's news – cleaning the floor with water is quite enough! Both the agents used in finishing process are also environmentally friendly.