Decorative Stained Concrete Floors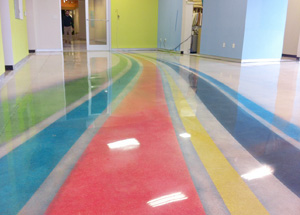 Commecial concrete floors have never looked so good.
Convert concrete gray into colorful polished surface. Color stain concrete system is ideal for new and existing concrete, regardless of age. These solutions differ from traditional coatings because they penetrate the surface, becoming and integrated part of the concrete.
Contains no harmful acids. Will not etch polished concrete surfaces or corrode surrounding metals.
Sleek Floors concrete system for concrete floors let you turn floors, new or old, into colorfull, gem-like, yet slip resistant surfaces. Water-based, contains no solvents, non-toxic, no smell, non-flammable, non- corrosive, suitable for use in occupied spaces and fast dryin. Non-mutagenic and carcinogenic (safe in food preparation areas).
Available in 24 standard colors, which can be intermixed to achieve the ultimate color range.
Because stains penetrate into the concrete surface, their color is durable and long-lasting. When applied to properly prepared concrete, the color will not fade, chip, or peel away.
To keep polished stained concrete looking its best, you will also need to clean it periodically by dry dust mopping and occasional wet mopping with a PH equivilent concrete cleaner. For more information regarding maintenance of stained polished concrete please refer to our owners manuals.
.

Polished concrete is a lot more durable and cost effective than any other floor systems. Sleek Floors Inc offers mobilized concrete polishing demonstrations to show you what it can do for your facility. 
Request a MOCK-UP in your facility
Main Features
COST EFFECTIVE
DUST FREE INVIROMENT
RESISTANT TO TEAR AND WEAR
RESISTANT TO Stains AND abrasions
INCREASE CONCRETE STREGTH
Longer service life of floors
INCREASE AMBIENT LIGHTING
ELIMINATION OF TIRE MARKS
EASY TO MAINTAIN AND CLEAN
NO MORE STRIPPING AND WAXING
Safe for occupied areas
SCS Certified
LEED BENEFITS
Test Results & Comparison
Environmentally friendly

Natural sleeking method enhances the special features of concrete, smoothing and polishing the surface without harsh chemicals. Harmful chemicals are yesterday's news – cleaning the floor with water is quite enough! Both the agents used in finishing process are also environmentally friendly.