Dustproof & Harden Concrete Floors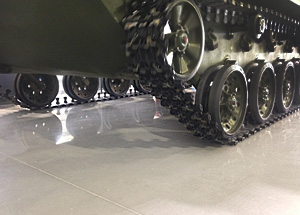 The surfaces of our polished floors are harder, easier to clean, and more stain resistant.
One of the problems of the concrete floors is cement dust. This issue becomes a problem for 90% of storage spaces.
The appearance of dusts due to the abrasion of the hardened the top layer of concrete.
Our company uses lithium impregnation for concrete, which gets rid of dust, promote hardening concrete, increase its resistance to mechanical wear.
System easily removes tire marks, scratches; build up grease and "orange peel" – using no more than ordinary cleaning machines and water. Concrete floors will be extremely durable resistible to tire marks and traffic patterns from vehicles and heavy machinery. After sleeking process is finished, the concrete floors are hardened, gloss, and stain resistant.
Clean & Light Polished Concrete enhances the natural grey tones of the concrete. This floor system is often used in areas such as warehouses and shops where owners may have concerns about durability and cost efficiency. Light Polished, durable, and easy to maintain concrete floor surface that is very affordable and will last for many years.
Industrial Polished Concrete produces a medium gloss concrete and is popular for settings where a subtle reflection is desired. Many of our customers choosing this gloss level it gives the same sleek look as the Clean & Light Polished, but with a slight gloss that provides some light reflection. This gloss level is smooth, and durable, easy to maintain. It cost less than conventional floor coatings
High Gloss Polished Concrete the appearance of this flooring often compared with marble and terrazzo look. The floor will actually reflect not only the lighting in the facility, but will also mirror the colors from the objects surrounding it. This floor system is very popular. High Gloss Polished concrete is more durable than any floor coating or overlay system on the market, and less expensive to maintain.

Polished concrete is a lot more durable and cost effective than any other floor systems. Sleek Floors Inc offers mobilized concrete polishing demonstrations to show you what it can do for your facility. 
Request a MOCK-UP in your facility
Main Features
COST EFFECTIVE
DUST FREE INVIROMENT
RESISTANT TO TEAR AND WEAR
RESISTANT TO Stains AND abrasions
INCREASE CONCRETE STREGTH
Longer service life of floors
INCREASE AMBIENT LIGHTING
ELIMINATION OF TIRE MARKS
EASY TO MAINTAIN AND CLEAN
NO MORE STRIPPING AND WAXING
Safe for occupied areas
SCS Certified
LEED BENEFITS
Test Results & Comparison
Environmentally friendly

Natural sleeking method enhances the special features of concrete, smoothing and polishing the surface without harsh chemicals. Harmful chemicals are yesterday's news – cleaning the floor with water is quite enough! Both the agents used in finishing process are also environmentally friendly.